We've got the answers to your questions
Can you tell me about your products?
Made Goods' products are hand-made and use natural materials. They are not mass produced. Variation between products should be expected. If you have questions, please be sure to call and speak to us before ordering.
Customization: We are able to custom size most pieces with no minimums. Please call or email to request information.
On-Line Selling: Made Goods is happy to allow our Current Retailers to sell the products they stock on their website. To protect our retail partners, we do not sell to online only retailers who do not stock products.
Media/Marketing: Made Goods looks forward to working with Media and blog partners. We have white, silhouette high-res images for all of our products. If you are interested in featuring Made Goods, please contact us at info@madegoods.com.
Trade shows:
HD Expo & Conference, May 15 - 17, Booth 1743
Las Vegas Market, July 29 - Aug 2, B - 0349
Atlanta Gift Show, July 10 - 17, Building 1, Floor 9, C7
NY Now Gift Show, Aug 18 - 21, Javits Center 2340
---
How do I order?
Made Goods sells only to the trade. If you wish to place an order, you may call us at 626-333-1177, send an email to: info@madegoods.com or fax us at 626-628-3115.
The first step is to complete our account application form. Applications are usually approved in three days or less. Once approved, you can move forward with placing an order.
What is the minimum order?
Retail Locations: We have an $1,800 opening order minimum for retail locations (stores/showrooms). After your opening order has been placed you are considered a Current Account and we have no minimum. However, orders under $500 are subject to shipping surcharges. Current Accounts must order at least $1,200 per calendar year to maintain their status.
Designers: We have no minimum order for designers. However, orders under $500 are subject to shipping surcharges.
---
How does shipping work?
Continetal United States: We ship either common carrier or FedEx depending upon the size and composition of your order. Shipping rates are 12% for Zone 1, 14% for Zone 2 and 16% for Zone 3 (See map below). Orders under $500 are subject to a shipping surcharge depending on the pieces ordered. Shipping rates are subject to change during the year and will be confirmed when your order is placed. Your order may be delivered in several shipments; however, this will not affect your shipping costs.
Intercontinental US & International: Will be quoted based upon your order. We can ship to residential addresses, however surcharges will apply.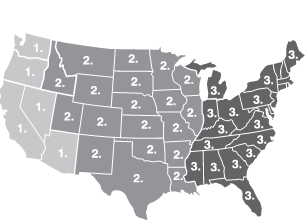 ---
Additional Information?
New Account Form
Credit Authorization Form
Terms & Conditions
Order Form
Can't find the answer to your questions here? That's OK – send us an email at: info@madegoods.com
Thanks!